It's been one week since we turned the page on 2020. How are your resolutions going? Maybe you thought about making a resolution for 2021 but never actually got around to it. If your old treadmill still looks like a clothes tree or you've already eaten more carbs this week than you care to admit, this post is for you: the procrastinators, the slow starters, and the still hopefuls. Here are three steps to make a new resolution and keep it… for good!
At the end of 2019, I was talking with a health coach about a plateau in my workouts. Her advice was to define my bigger why. Your bigger why is the driving force behind your goal. I wanted to lose weight‒ but why? To look better, sure. To feel better, definitely. But if those were the only reasons, then I would abandon my healthy eating plans as soon as I wanted a doughnut. She challenged me to define my bigger why in a single word. I chose FIT.
Fit meant I was prepared to handle whatever came my way. It meant I was willing to do the work mentally, physically, emotionally, and spiritually to get fit. It also meant that I was committed to continually learning, growing, preparing, adapting, and calibrating to stay fit. I made a graphic (I'm a visual learner.) And for 6 weeks, I used that word as a gauge. A benchmark. When I wanted to sleep in, I told myself "This won't help me get fit" so I got out of bed and worked out. When I wanted to eat junk food, I knew it wouldn't help me stay fit, so I ate a salad instead. It worked.
Finding my bigger why helped me reach my goal! But as 2020 came to an end, I didn't really know what to do. Fit was a successful mantra; should I just stick with it? As I brought mindfulness to my goal, I realized that becoming fit had opened the door for a new goal: listening. Over the last year, I have found a deeper appreciation for the art of listening. Being present. Thinking on what you notice in your body, your environment, and those around you. Who are you listening to? It matters.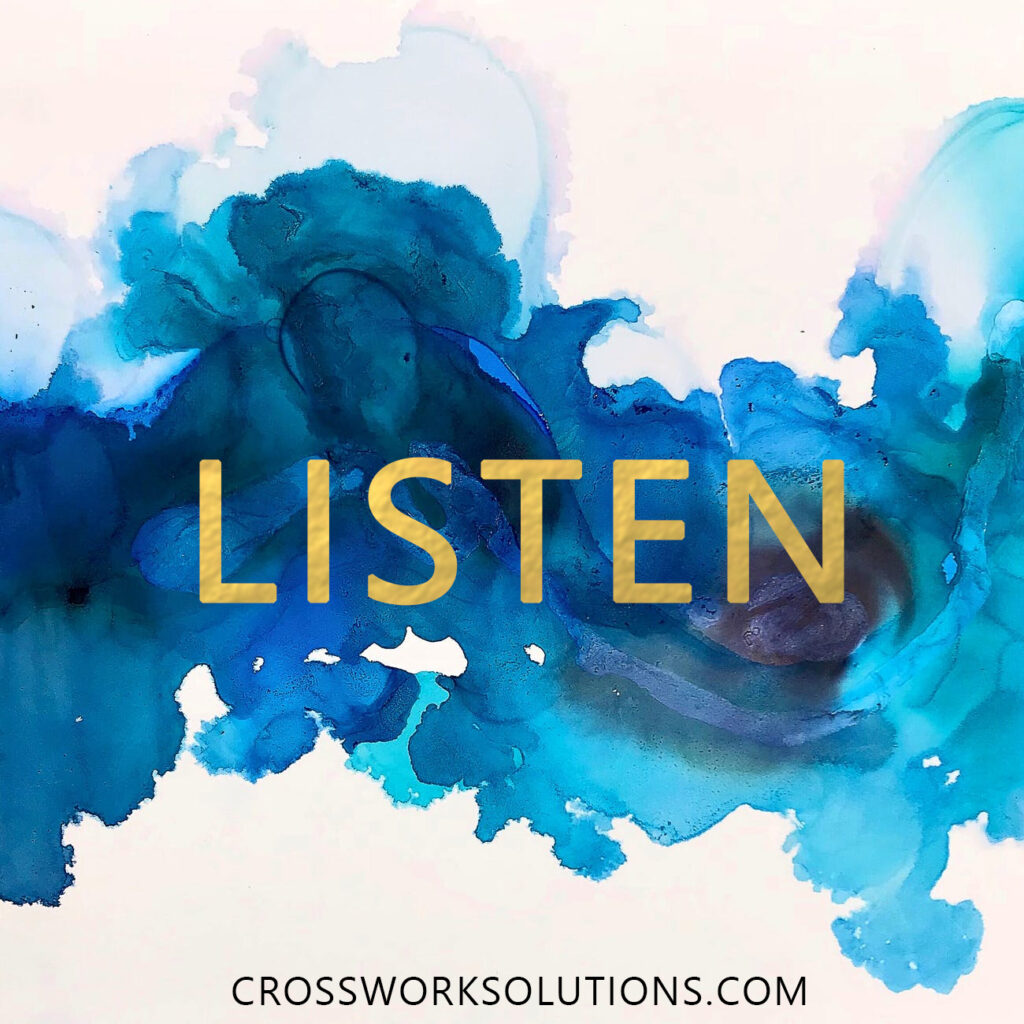 So here are my big three for keeping a new resolution.
Define your bigger why. What is motivating you? A career change? A luxurious dream vacation? More time with your family? Writing a book? Playing more golf? Be honest with yourself. What do you want to change, and most of all WHY? Write it down. Come back to it. Make daily reminders on your phone, or frame a picture of your last vacation, your next set of golf clubs… whatever it is. Keep it at the forefront of your mind and your plans. Think on it.
Make a Plan. Now it's time to align your actions with your bigger why. Make an incremental plan to achieve your goal. It's not hard! First, sit down and write out how you would budget your time for a single day– from the time you wake up until the time you go go sleep. Look at your habits. Where can you trim the fat? Maybe you need to wake up 1 hour earlier (maybe you need to go to sleep an hour earlier!) Maybe it's time to hand over some of your commitments. The first habits to change are often omitting the time wasters: social media, video websites, texting, and repeatedly checking email. Set some boundaries for yourself. Omitting time wasters may seem hard, but when you do, you are making time for the life you want. Once you've written down your ideal day, try doing it.
Stick To It. It may take a week to tweak your routine and find a realistic groove. But once you do something for one day, then you have proven to yourself that you have what it takes to budget every day. So do it! A lifetime is just a series of days, and you can build the life you want through intentional habits each and every day. Consider what's at stake if you don't. If you get off track, it's okay. Start over right where you are and go from there. We're only 1 week in to 2021; this year can still be the year that you start to construct the life you want!
Learn how to develop habits to build the life you want. Let's get started!